Here's How To Drastically Improve Your Public Speaking Ability With Confidence-Boosting, Engagement-Increasing, Results-Oriented Tools, Tips, and Skills... Developed By A Public Speaking Master!
Enroll Today And Save 99% Off The Regular Tuition.
Educator, author, public speaking expert, and private "hypnotist to the stars," Dr. Steve G. Jones, will help you build the confidence you need to speak in front of any audience…
Take all the work out of choosing what to say and how to say it as you implement the knowledge and tools you need to reduce the time it takes to turn a blank page into a successful polished presentation…
Use the power of your mind and dozens of easily applied tools, strategies, and techniques to eliminate the crippling fear of public speaking holding back your career or social life...
Discover a new perception of yourself and engage an area of your subconscious mind that will automatically allow you to command attention, keep it, and impress absolutely anyone with your full public speaking potential…
Learn the "what, when, why, and how" of writing, practicing, and performing a speech. It doesn't matter if you're giving a toast or vying for a promotion, you'll be using the proven techniques Dr. Steve has only previously shared with his private clients…
And finally feel relief from the anxiety, nervous energy, sweaty palms and shaking knees feeling you need to eliminate in order to land your dream job, move up at work, close more sales, or stand up and speak with confidence in any public environment!
Get Ready to Learn How You Can Confidently Speak to Any Audience, of Any Size, on Any Topic!
The American Union of NLP is an opening online enrollment in Dr. Steve G. Jones' basic Public Speaking Certification Course at an incredibly reduced price.
It doesn't matter if you're a salesman looking for the perfect pitch, a career-minded go-getter ready to finally move up, or a public presenter of any ability or experience level ready to tap into the proven psychological power of Dr. Steve G. Jones' preparation, content, and speech delivery techniques…
Now is the time to learn how to be a better public speaker.
The techniques, tips, and skills you're about to learn work in any setting, on any topic, and with any audience.
And, if you act today and enroll in this 100% online and self-directed course, you'll receive FREE certification with the American Union of NLP if you pass the test and essay at the end of the course.
This 100% Online, Self-Paced Course Is Guaranteed to Help You Become a Better Public Speaker!
Location: 100% Online And Self-Guided
Dates: Starting At Your Convenience
Cost:  $2,997 $19
Registration Deadline: None
Cancellation Policy: Cancel Within 60 Days For A Full Refund
Instructor: Dr. Steve G. Jones, Ed.D, Neuro-Linguistic Programming Master Trainer,  ALA Board Of Directors Member, American Board of Hypnotherapy Member, National Guild of Hypnotists Member, Professional Practitioner, Educator, Author, And Founder of the American Union of NLP
Required Texts (Provided): 5 Study Guidebooks, 5 Video Learning Modules
Certification Method: Online Multiple-Choice Exam, 5 Minute Recorded Speech
Certifying Body: American Union of NLP (AUNLP)
Sample Certificate: Click here to see a sample of the certificate.
It Doesn't Matter How Much You Struggle to Prepare or Fear Public Speaking, Your Next Audience Won't Be Able to Stop Listening to Your Presentation!
With this certification, you'll be able to confidently influence a crowd of any size. It doesn't matter if you're a CEO who has to present to a boardroom-sized audience, a career public speaker addressing arena-sized audiences, or even on a career-track that requires taking your presentation ability to the next level…
When you decide to learn the proven techniques Dr. Steve G. Jones has developed to help you prepare content, build your confidence, and deliver your presentation or speech with ease, you'll be able to leave a lasting impression with any audience.
5 Instructional Videos, 5 Complete Guidebooks, and a Professional Certification Exam Are Included.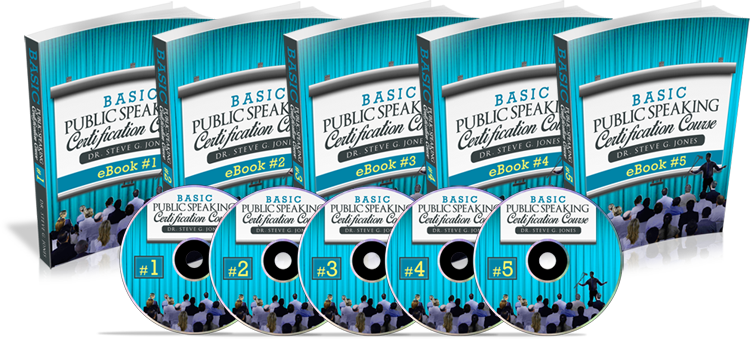 $2,997 Just $19 (99% Discount)
You'll immediately start your online course with 5 instructional videos where Dr. Steve G. Jones will explain how you can take control of any public speaking situation, improving your confidence, ability to command audience attention, and presentation effectiveness with simple techniques you can immediately implement.
Consider the power you'll have once you're able to step into any room, any situation, and any environment and speak with authority and confidence about absolutely any topic (provided you've followed the included preparation instructions).
Course completion and certification is a must have for anyone looking to improve their ability to persuade an audience and confidently deliver information, ideas and perspectives people will actually want to hear.
Get Started with an Overview in Your First Course Book as You Learn…
Steve's 4P Equation for public speaking presentation. It's more than just research-backed persuasion science, this real-world proven formula will allow you to walk on to any stage and keep your audience begging to hear your next word…
5 reasons you're afraid to speak in public, how to identify them, why you've never thought of them before, and precisely how you can use the power of your mind to overcome them, stand up in front of any audience, and impress with ease and confidence…
One 6-step fear elimination straight from Dr. Steve's private practice. You're about to have the exact same "mind reprograming" fear reduction strategy once only available in $15,000 per hour sessions…
Relaxation techniques, body language queues, and 5 assurance increasing techniques to taking the microphone without trepidation. You'll practice these 5 techniques and be rewarded for your time the very first time you put them into action…
3 ways to get to know your audience you've never thought of before, one "Keep It Super Simple" strategy, 7 "easy listening" writing and presentation tips, and how to manage gratitude, humor, and more to maximize effectiveness and engagement…
19+ Practice and preparation strategies you can start putting into action today. Take just one of these techniques (one of the most powerful is called "positive affirmation" and it's explained on page 20), put it into action, and speak in public like a pro.
Take All the Work Out of Choosing Your Words Wisely as You Discover…
6 ways to organize a speech or presentation and a simple, fast and easy 4-step process that turns 3 days of work into a simple 3-hour task. Using the included techniques, your speech writing will improve even as you spend less time writing…
8 tools and tips you can use to help optimize word choice. Instead of struggling to come up with the right word, idea, or expression to engage with a presentation everyone can understand, use these tools and choose the right words quickly and easily…
The one mistake almost every inexperienced speech writer makes. Hint: It has to do with the way you're using the thesaurus. We'll explain the "wise way" to use a thesaurus to enhance word meaning and engagement…
Humor VS. Telling Jokes – Do you know the difference? Eventually you will need to use humor in your speech. If you don't follow the 12 "humor commandments" Dr. Steve has set up in this certification course, you're likely to "just tell jokes"…and just telling jokes rarely engages your audience…
8 ways to use your voice, 9 facial expression techniques, 5 body language tips, and the resources you need to keep them all straight, remember them, and get them right without being overwhelmed or anxious about what might go wrong…
And you'll get an inside look at 24+ different ways to engage your audience through the 5 senses. Beyond your voice and body language, there are dozens of sensory ways to capture attention and keep it. You're about to learn them all!
You'll Be Able to Structure ANY Presentation for Success with These Tips, Tools, and Techniques…
How to take your audience's sensory experience one step further and enhance speech effectiveness and attention span with visual aids. You'll learn an 8-step visual aid integration approach while understanding the 5 common mistakes to avoid…
Ways to structure your content including: 3 "opening line" techniques that turn a blank piece of paper into a magnet for your otherwise hard to express thoughts, 3 "must include in the middle" ideas you can't miss, and 5 ways to create a conclusion that leaves a strong impression with your audience…
Verbal VS. Written Communication – The can't miss differences you need to understand before you stand up in front of any audience and speak. Just one tip in this section will help you harness the true power of oral communication: Getting attention…
What to do with your eyes, hands, and posture, how to use the "NODS formula" for body language success, and dozens of ways to use your voice effectively and match your speech, voice, and appearance to your presentation…
And much, much more in the guide to content, body language, and voice proven to turn absolutely anyone into a master of public presentation.
Make "The Art of Storytelling" Second Nature and Capture More Attention as You Learn…
Why the right kind of storytelling is attention grabbing magic, deeply rooted in your audience's emotions and how you can take any one of the dozens of storytelling techniques you'll discover and tap into their automatic desire to hear a story…
7 basic storytelling plots, why they work, and when to use them. Believe it or not, these 7 plots are found everywhere…not just in successful books, movies, and TV shows people love to binge watch, but in the presentations you'll write and perform…
3 "choosing the right story methods," 4 ways to tweak classic story form, and the tips you need to tap into your audience's subconscious without them ever suspecting that you've used an age-old storytelling trick to capture and keep their attention…
Meditation, visualization, and relaxation strategies made to melt away stress, tension, and anxiety. Studies show the dozens of relaxation techniques you're about to learn are actually more effective than the strongest anxiety medications…
One method you can use to make everyone feel like you're talking directly to them (do this and you'll have the undivided attention of everyone in the room—they'll be afraid to look away)…
And much more as book 4 concludes with a near complete guide to basic and intermediate eye-contact tools and techniques you can use to make every moment, word, and idea in your presentation or speech count!
Turn On the Emotions of Your Audience and Deliver a Speech with Confidence After You've Discovered…
Logic VS. Emotion – The vital reason you should understand the difference and how the important distinction between the two drastically impacts the way you use one, the other, or both in a speech or presentation…
4 ways to evoke emotions nearly instantaneously, just by sifting small elements of your presentation few people think about, but you need to commit to memory. Once you evoke emotion within your audience, they won't even be able to willfully distract themselves…
Staying "ahead of the game," final thoughts, and how to appropriately handle questions and answers. Even if there's no scheduled Q&A, you should read this section to be prepared. You can lose everything gained with a poor post-speech performance…
Concluding a speech: The right way and the wrong Learn dozens of strategies you can use to begin a conclusion and keep from disappointing your audience. PLUS—you'll learn one technique you can use to modify your conclusion based on audience response…
And complete review of the entire course so you can prepare for your AUNLP certification exam. Once you've passed with a 75% correct score on the multiple choice test included with this course, you will submit a 5-minute video speech for Dr. Steve to review. Upon passing, you will be certified by the AUNLP.
$2,997 Just $19 (99% Discount)
Click Above to Enroll Today.
Don't Miss This Opportunity to Earn the Public Speaking Certification that Will Leave Any Audience Practically Begging to Hear Your Next Speech.
If you have any questions, comments, or feature requests, Contact Us